The Smart Rail Track by Vossloh1
At InnoTrans 2018, Vossloh presented the future of the smart railway: For mobility that meshes seamlessly. For routes that are maximally available. For connections that are safer, quieter and cheaper than ever before. A lot of solutions according to our claim: "The Smart Rail Track by Vossloh".
In the five topical areas, visitors discovered and experienced numerous innovations that address key issues – track availability, noise and CO2 reduction and life cycle costs – using a smart approach.
Digital Turnout Management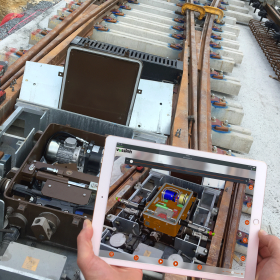 "Digital Turnout Management" puts Vossloh in the spotlight and inspires with digital innovations and platform solutions, such as V-MON. The unified architecture of the turnout remote monitoring platform enables both the use of existing modules (switches, track circuits etc.) and the integration of external services via a single interface, both using standard protocols. Because for turnouts, several status information items at once are important in terms of wear development. The pioneering IoT sensor technology not only serves as a data source for real-time analyses that reflect the current state of rail and switch systems. Rather, pre-qualification of the raw data occurs in the new generation of IoT sensors using microprocessors. In addition, these sensors cover their energy needs by charging their batteries using track component vibrations. This expands their application scenarios as well as the variety of measurement parameters. And this makes the system virtually maintenance-free.
Virtual images of physical components or systems - so-called "digital twins" - provide insights into the functional and service diversity of tomorrow using the example of the Easyswitch MIM-H point machine.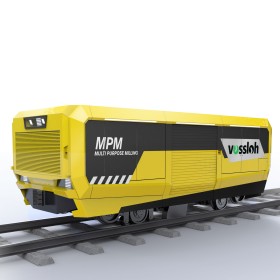 The new Vossloh Smart Rail Maintenance App proves that digitization has now fully arrived in the field of track maintenance. With a simple clic, can see at a glance which costs and within which timeframe their rail surfaces on selected route sections will be flawless once again.
The basis for this is the smart HSG grinding unit, equipped with the latest sensor technology. Without blocking the track or any timetable disruptions, it collects the rail longitudinal and transverse profile data for the next grinding pass, during which it is then only ground where it is actually required. And this is always with surface removal that corresponds exactly to the respective track condition.
A real eye-catcher at the InnoTrans is the mobile compact milling machine Multi Purpose Milling (MPM) for flexible hotspot processing on conventional track and urban transport.
At just 16 t, this lightweight is the only tunnel milling machine that achieves a 2 mm cut per pass. By using the counter-direction process, in which the milling unit moves in the opposite direction to the direction of travel, the increased force required in the milling process leads to an improved cutting process and ensures higher precision during removal. Thanks to contactless rail scanning using laser technology, comprehensive and condition-oriented point processing is also possible.
Industrial Excellence & Innovations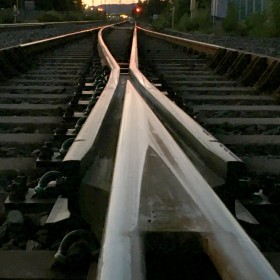 "Industrial Excellence & Innovations" is all about new designs and materials. The particularly hard rolled steel CogX enables a wide range of crossing applications for all types of track, for example, due to its hardness of 550 HB at the tread and its ideal processing properties.
To meet the special requirements of high-frequency, high-speed traffic, Vossloh has developed a completely new design for its rail fastening system 300-1 for slab track. The new tension clamp SKL 15 HF has a significantly higher natural frequency. As a result, it is much less sensitive to vibrations – triggered by poor wheelsets and longitudinal rail shafts. At the same time, newly developed coating solutions optimize the longevity of the steel components.
Another highlight is the new composite material amalentic. The base material for eco-friendly sleeper solutions combines many outstanding properties, such as isotropic material behavior, high UV resistance and a low thermal expansion coefficient. Without these limitations in the shape, with optimal design of the geometry, many variations can be achieved in combination with different fastening systems. This qualifies the new polymer sleeper as a real alternative to today's wooden and plastic sleepers.
Silent & Clean Environment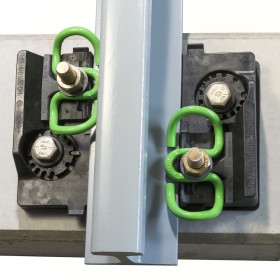 The innovations in the "Silent & Clean Environment" topic demonstrate how noise and vibrations can be sustainably reduced and how environmentally friendly product solutions throughout the entire value-added process contribute to an optimized CO2 footprint. Their shared promise is the optimization of the wheel-rail contact. Because this is where noise reduction is the most efficient.
A good example for effectively controlling vibrations due to track and wheel unevenness is the new DFF 336 Crossover rail fastening system for refurbishing existing routes. In addition to cellentic, the polymer-coated base plate also increases the vertical elasticity. The angled guide plates provide improved stability and tracking, resulting in less corrugation on the track surface, especially on bends. Due to the high plastic content, the system has a high insulator resistance and is also suitable for corrosive environments. The energy-efficient production and its lower total weight have a positive effect on the CO2 balance.
The smart turnout heater can use all renewable energy sources via a heat exchanger. This reduces energy costs by up to 85% compared to conventional heating solutions.
The potential of real-time continuous condition monitoring of tracks is obvious – our latest developments in this area will be presented exclusively to InnoTrans.